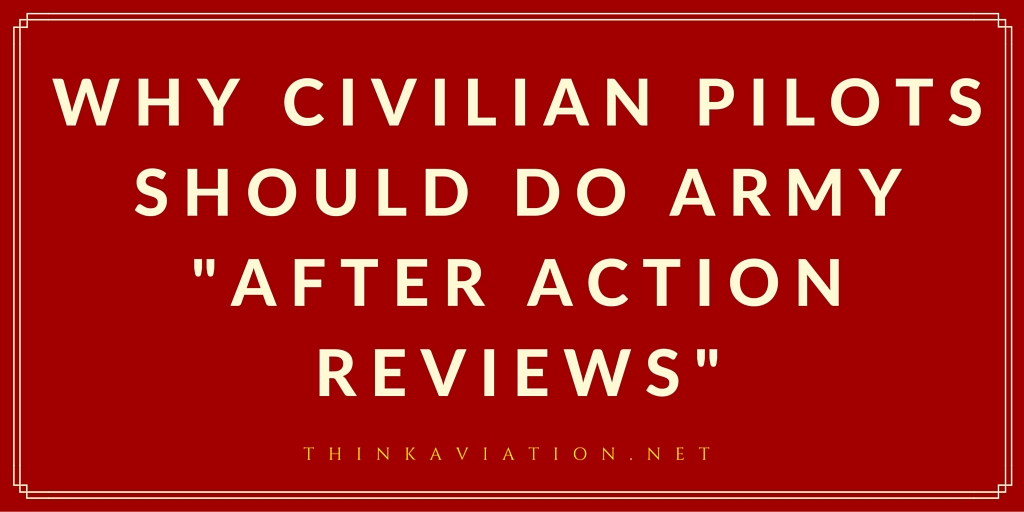 General Aviation pilots can benefit from mimicking military aviation. One practice I believe every pilot, military or civilian, should implement is the Army's After Action Review (AAR), and here's why:
An instructor of mine said something I will never forget:
"The hours in your logbook only count if you were paying attention."
One of the best ways to "pay attention," beside stay awake, is to take notes of the things you screwed up during the flight. When you are done with the flight, use those notes to conduct an After Action Review (AAR).
I believe the United States Army is the best in world for two reasons: the Commissioned Officers Corps (Sergeants) and our obsession with After Action Reviews.
Every training and combat event in the Army ends with an AAR. It's so important it's in our pre-flight mission brief checklist. It says: "decide on location for AAR after flight." Before we even takeoff we pick a location where we will discuss what happened on the flight.
An AAR can be as complex or simple as you need it to be. At the National Training Centers, AARs can take a day. Your AAR at the side of the plane need not take that long!
AARs only need to contain a few simple elements:
3 things that went well

3 things you could have done better
Or you could ask these four questions:
What was supposed to happen?
What actually happened?
Why was there a difference?
What could we learn from this?
I also like to add in these things:
Discuss any crew coordination issues you and your co-pilot had. For example, did they touch a switch without announcing they moved the switch? Did they forget to call out 200 feet prior to the DH like you asked? You get the picture.
Items I need to research. It could be a regulation, aircraft system or aircraft limitation. Ideally you should look it as soon as possible, but at the very least make a note and research it before your next flight. I find I remember regulations much better when I can tie it to an experience.
I should also mention there is only ONE RULE to follow when conducting AAR: Absolutely no thin skin. Everything goes. You may get your feelings hurt. Get over it. 
Don't underestimate the value of capturing and correcting your lack of knowledge. Take it from Chuck Yeager.
"I was always afraid of dying. Always. It was my fear that made me learn everything I could about my airplane and my emergency equipment, and kept me flying respectful of my machine and always alert in the cockpit."
Conducting an AAR can be the most difficult part of your flight. Remember when your instructor constantly pointed out your shortfalls? The constant barrage of "you suck" was exhausting, wasn't it?
When formal training ends, you get to run from that feeling.
But, stop a minute! You're an aviator!
Turn around and run back. Lean into that horrible feeling of worthlessness and embrace it.
Use it to get better.
Yeah, I know it sucks coming to terms with your shortfalls. It takes great courage and maturity to admit you messed up. But aviation requires you to be brutal on yourself.
Start doing AARs. They are vital for your development as an aviator.
To steal another quote from the great Chuck Yeager:
"There's no such thing as a natural born pilot"
It takes work.
Do you want weekly tips and resources?
Subscribe to keep learning.