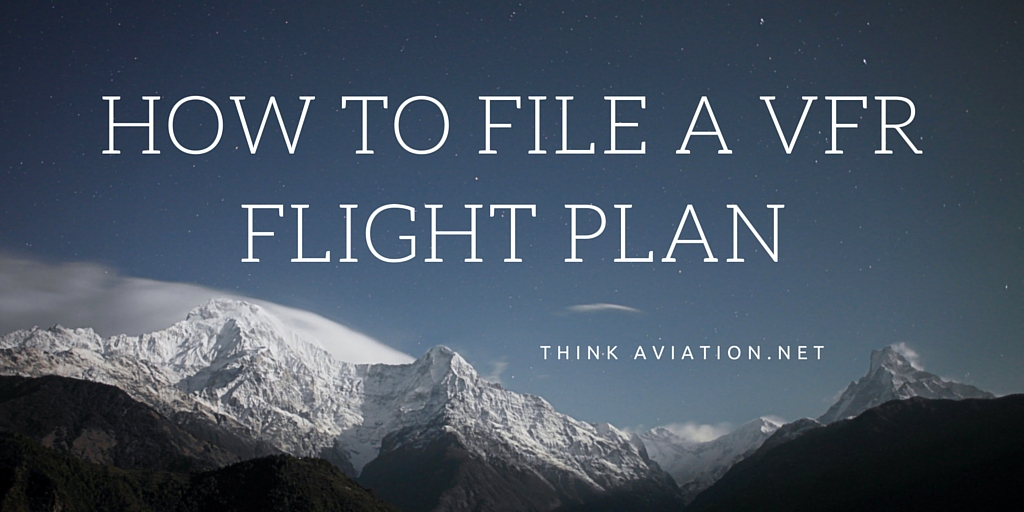 Filing a flight plan is easy.
There are several ways to file depending on your comfort level with technology and your budget. Here are three ways to file and then I will go into the specifics of the FAA's Form 7233-1:
Call 1-800-WX-BRIEF.

This is the old school method. As long as you have a phone you can file a flight plan. They will give you NOTAMs, weather and take your flight plan all at once.
Always have a flight plan form in front of  you. The briefer will expect you to rattle off the required information on the form starting at #1. Its painful if you don't have it in front of you.
You can print off the fight plan form by clicking here: FAA Flight Plan. Keep it in your flight bag or on your phone.
Lockheed Martin Flight Service

If you don't want to call, and you have a computer handy, you can file through Lockheed Martin's website.
You will need to set up an account first, but it only takes a minute.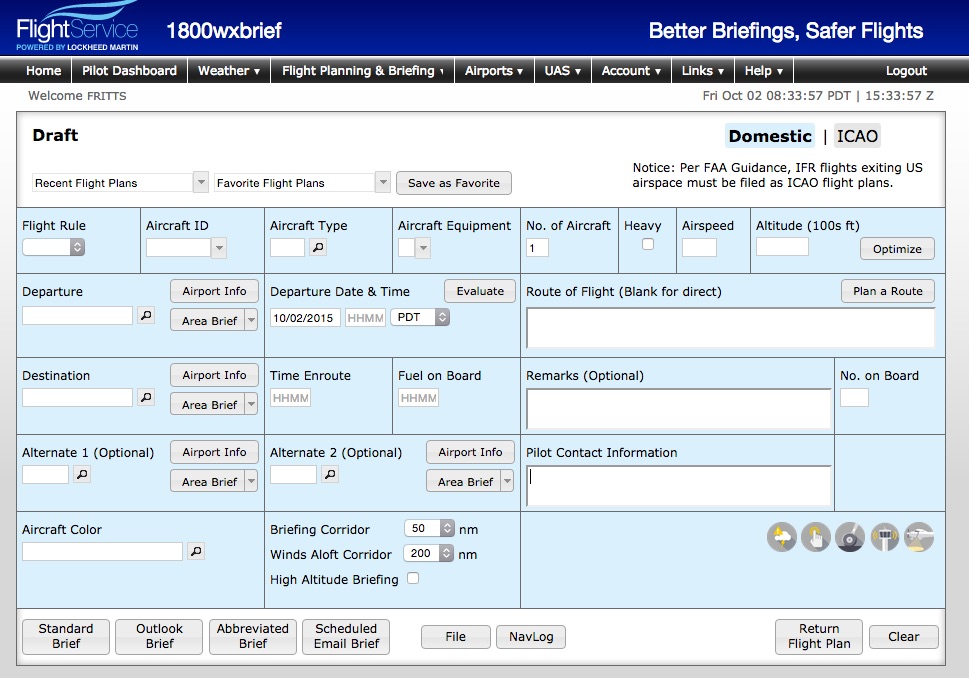 Foreflight

This is my personal favorite method, but it will cost you either $75 or $150 a year depending on your subscription. You also need an iPad.
Foreflight saves your aircraft info making filing even faster the next time.
Foreflight will email you a complete weather brief after filing.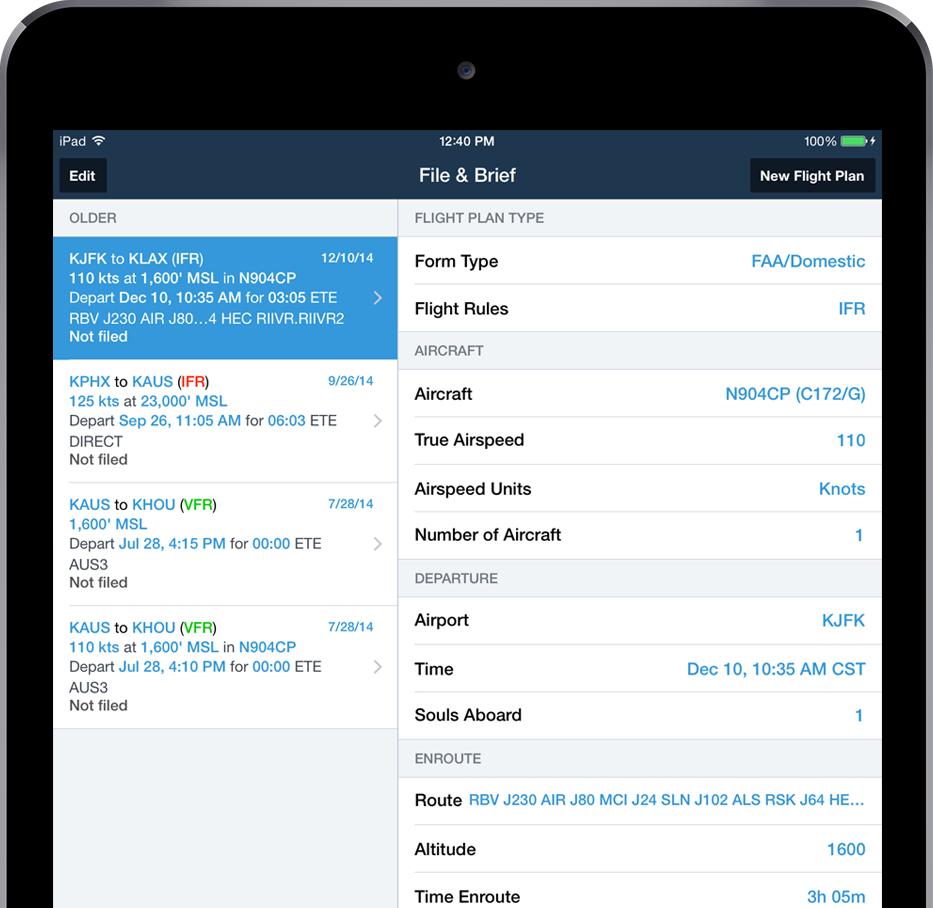 Skyvector.com

You don't need money for this method, but you do need an email address, login and a computer. Skyvector.com is an excellent free flight planning tool. I prefer it to its alternate: Fltplan.com. Either will work. Stick with one so you get good at it.
If your takeoff times change you can quickly change the times and resubmit. You do need an internet connection, however.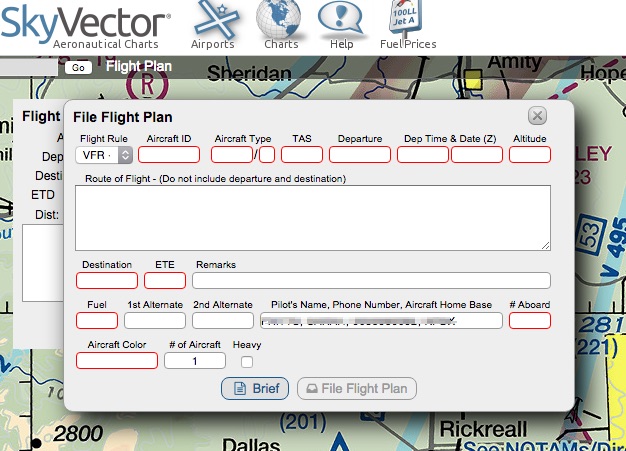 There are other ways of filing, but these three are by far the best.
I don't mess with CSC DUATs. I know some people do, but I just stay away from it. The website looks like it is straight out of the 90's. Its days are numbered. Even Foreflight uses Lockheed Martin's information instead.
Now that you know three ways to file a flight plan, let me go into the specifics of each section of the flight plan form.
1.  Flight Rule:
VFR, IFR or DVFR. These are pretty self explainatory. If you aren't instrument rated you can only file VFR.
If you don't know what DVFR is then you shouldn't be filing it.
2.  Aircraft ID:
Use the full five digits of the aircraft
3.  Aircraft Type/Special Equipment: Reference Table 5-1-4 in the AIM.
Note

: If you don't know what your aircraft type and identifier then ask! Don't guess!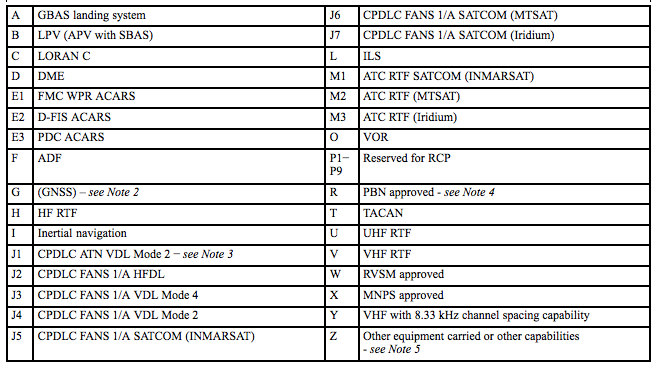 4.  True Airspeed
Use Skyvector or some other software to compute. It is NOT your indicated airspeed.
5.  Departure airport ICAO identifier
6.  Proposed Departure time
This must be in ZULU time.
7.  Cruise Altitude
For VFR use thousands plus 500 feet (i.e. 6500'…..even numbers going west and odd going east)
The West Coast states use even going North and odd going South. (ie. From Seattle to LAX use 17,500′ and coming back north you would use 16,500′)
8.  Route of flight
Do not be lazy and file direct. The only purpose of a flight plan is for search and rescue. Don't go overboard with the waypoints. Be realistic, but provide value to your rescuers.

Note: Think twice about deviating from your fight plan. Once you go off course you may never be found.
9.  Destination airport
10.  Time en-route
Use current wind calculations at cruise altitude to get an accurate time. Foreflight and Skyvector will do this for you.
Add a little bit of padding to account for longer taxi/run-up times, but not so much that you die because it took too long for search and rescue to find you.
11.  Remarks
I have never used this section. If you do, do not assume it will get passed to the next controller.
12.  Fuel on board
You must have appropriate fuel reserves for your type of flight regime. During the day you must have 30 minutes extra from your total flight time in Block 10. At night, 45 minutes.
13.  Alternate airport
You shouldn't need to enter anything here for a VFR flight. This block may be mandatory for some IFR flights.
14.  Pilot's Name and contact 
Give them your cell phone! If you forget to cancel your flight plan you want them to call you immediately not your Grandma's land line in another state.
15.  Number on Board
16.  Color of the aircraft
Use the Predominate color
That's it!
Remember, flight plans only work if you open your flight plan in the air with the closest Flight Service Station.
You can find the closest FSS by looking at your sectional.
Take Salem airport for example. Notice the frequency in the brackets above the airport and the name below? Call that frequency as soon as you get to 1000′ or an altitude with good reception.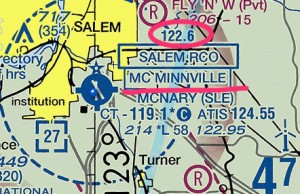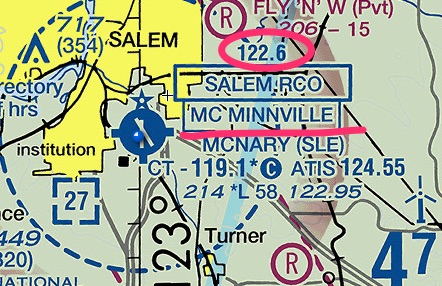 The call will go like this:
"McMinnville radio, Cessna One, Two, Three, on 122.6"  (always give them a heads up and specify the frequency as they use multiple frequencies)
"Cessna, One, Two, Three, go ahead"
"Cessna, One, Two, Three, I would like to open my VFR flight plan from Salem, Sierra, Lima, Echo to Medford, Mike, Foxtrot, Romeo." (don't assume they know the identifier for the airports, spell it out for them, they may not be close to your area)
There will be a pause as they look in the system for your flight plan and then that is it.
You have now opened your flight plan.
Remember, though, opening your flight plan is NOT the same as flight following. You will need to call "Center" to get that. I will cover that another time.
Here is the key, though: you must remember to cancel your flight plan.
You can either to the reverse process and just as you are about to land and cancel in the air or you can call them on the phone (1-800-WX-Brief) when you land.
If you do call when you land, I recommend you incorporate the call into your checklist.
Don't get out of the airplane until you have made the call on your cell phone. It should be part of your shut-down check.
Is there something I missed or do you have any questions you have about filing a flight plan? They can be tricky at times.
If you have questions, leave it in the comments below or email me at: sarah@thinkaviation.net
Do you want weekly tips and resources?
Subscribe to keep learning.