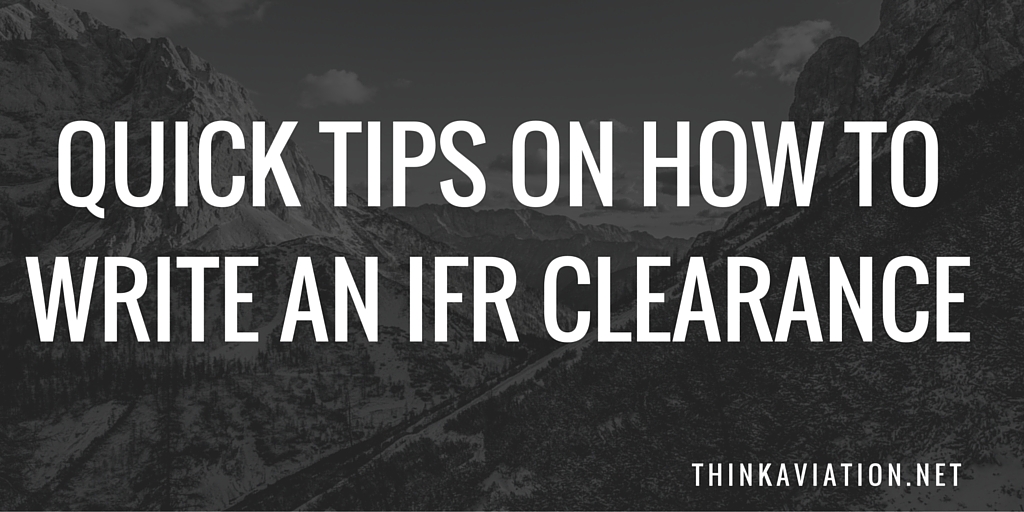 IFR clearances are often quite intimidating especially at larger airports. Will you write it down accurately or will you have to ask them to repeat it?
Don't fear anymore!
Here are the tricks you can use to write the clearances quickly and accurately. Remember: don't write out the clearance completely. Abbreviate or you will fail every time. 
Here is an example of an abbreviated clearance.

Before we begin, you need to understand controllers use the same language ALL the time when they issue clearances. When you understand the basic format of a clearance you can anticipate what they will say.
Anatomy of a clearance:
Airport you are filing to

Departure procedure they want you to fly and/or the departure heading

Route 

"Climb and Maintain" Initial Altitude

Altitude you can expect in 5 min

Departure frequency

Squawk code
Okay, now you know what almost every clearance looks like, here's how you can set yourself up for success:
Before you call for a clearance, you need to do four things:
Write down your destination's airport ICAO identifier first. The destination airport is the beginning of your clearance, so write it down before you write the rest of the clearance.
Get ATIS. You have to tell Clearance Delivery or Ground what ATIS you have so do it now. You will also have to tell them where you are parked.

Study the departure procedures or the ODP pertinent for your type of aircraft. Y

ou'll have a much better chance of writing it down correctly if you look before you call.

Pro Tip: have a list of the SIDs out when you call to make it easier to identify the SID when Clearance speed reads.

Make a mental note of the departure frequency. If you get a speedy controller you'll have a much better chance of writing down the correct freq. 

Note: sometimes they will just give you the SID and not tell you a departure frequency. Use the one on the SID. I have found some airports always give you the departure frequency and some never give it to you. 
Once you have done those four things you are ready to call!
The first thing they will say is "cleared to XXX airport." You know this is coming, so you should already have written this down.
After the destination airport comes the departure procedure.
This shouldn't be a problem, though, right? You already looked at the names of the SIDs. If I am familiar with the airport and know what SID they give, I will write it down before I call. Here is how I abbreviate the Salem 3 departure.
 SLE3 or S3
Lately I have taken to only writing the first letter of the SID and then the number. For example: for the Salem 3 departure I write S3. For the Seattle 4 departure I write S4. Get my drift? The controllers are FAST!
Holy crap it can be hard to copy it all down. Keeping a list of the SIDs up and only using the first letter of the SID is the BEST way to make it through a clearance.
PRO TIP for digital users: bring up a list of all the SIDs for that airport. Have it visible when you write down the SID they give you.
You can quickly look over at the list if the controller sped through the pronunciation, quickly write down the first letter and number and then look at the list when you read it back with the full pronunciation. This tip has single handedly made the biggest difference to me when I write clearances
The next part will either be awesome….or not.  If you have done some good flight planning you will hear: "as filed."  I abbreviate it as:
AF
If you haven't done your due diligence, (ie you filed direct with nothing in between) you will have to do some scrambling to write down various fixes and VORs.  Take a deep breath, do your best and ask the controller to spell out the points. 
Don't be a hero.  But….there is a way to mitigate this problem. 
PRO TIP: study the departure procedure and all the names of the VORs in the departure plate. Most VORs have abbreviations that aren't remotely close to the three letter identifier which is why most people have to get the VOR or fix spelled out.
Study the plate! If you study the plate and the controller give you the "Newburg" VOR you can write UBG. Done and done!
Next you can expect a "climb and maintain" altitude. Use an upside-down L to annotate "climb and maintain." Also, don't write out 9000 or 2000.  There is no point. You know it isn't 2 feet.  Its quicker to write the first letter and be on your way. I write like this:

You can also skip the inverted L and just write the number. I used to read back "climb and maintain 2,000" but now I just say 2000. It's implied you are climbing.
There is a variation to this call: "Climb via the SID." When this happens I just write an upside down L and SID. I go back later and copy down the altitude in the SID.
Then they will give you an altitude to expect 5 min after departure. I find most clearances will say "expect XXX altitude 5 min after departure" so the x5 is just a reminder. This is what I write:
x 240 5min  or:  x 240 5 
Next is the departure frequency. This is most likely the departure frequency on the SIDs or approach plates but not always. You should already have an idea of what it is. 
125.8
They may not give you a frequency at all. If this is the case, go to the SID and use the frequency on the departure plate.
Finally the squawk code which is self-explanatory.
2306
Here is another example of a clearance with the tricks I use. The "WG" is the Waters Departure SID. I looked at the SID before I called for the clearance so I was able to quickly abbreviate.    

That's it! Remember to anticipate the call and use abbreviations. If you do, you will never fear the IFR clearances.
One more thing!
Did you like this article? I email my readers every week with more articles just like this. The thing is, these articles aren't on my blog! You can only get them by subscribing.
Still don't want to join my email list? That's okay. You can still download a FREE Ultimate Guide to Decoding NOTAMs below. You can unsubscribe after you downloaded the guide. I don't mind, seriously.
Get Your Ultimate Guide
Download your FREE guide. Plus get weekly emails full of aviation tips and resources.